Wow! Momo
Wow momo is now a big brand or you can say a big startup. I predict we all once hear about WoW momo in your life. Wow, momo is a big brand in the food and beverage industry. WOW momos are started/Founded by Sagar Daryani and Binod Homagai. Before reading the success story Sagar Daryani let have some knowledge of Wow! Momo.
Wow MOmos is founded/started by two classmates Sagar Daryani and Binod Homagai. Wow Momo is a chain of fast food. The headquarters of Wow Momo is situated in Kolkata, West Bengal, India. Wow! Momo is in the food and beverage industry. Wow Momo is founded in 2008 by Sagar Daryani and Binod Homagai.
Wow Momo has around 200 outlets in across 13 cities in India. The main product of Wow Momo is Momo. The total revenue of Wow Momo is 135 crore in the financial year 2017-18.
Success Story of Sagar Daryani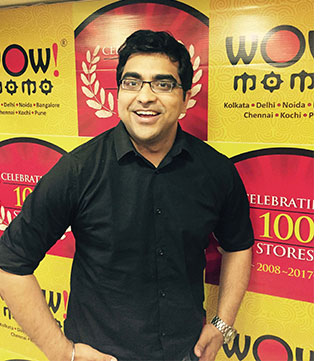 Sagar Daryani and Binod Kumar Homagai started the Wow Momo with the investment of 30000. They started the Wow Momo when they completed the graduation i.e. B.com (Hons). Sagar Daryani is weak in maths and he knows he can't clear CAT. Sagar Daryani is always passionated about brands. He used to stick the stickers/logos of the brands like Nike, Puma in his notebook. Sagar Daryani and his friend Binod Kumar Homagai study together all night. In night Binod makes Momos and Sagar Daryani make toss bread etc. Binod Kumar Homagai is a Nepali guy and it is believed that the origin of Momo is from Nepal. So Binod Kumar Homagai makes a perfect and delicious momo.
Sagar Daryani Childhood and Background
Sagar completed his schooling from St. James's School Kolkata. Sagar Daryani has done his graduation from St. Xaviers, Kolkata. Sagar Daryani father was working in a company. Sagar Daryani belongs to the middle-class family.
The beginning of wow Momo is a tragedy. Sagar and Binod got the idea of Wow Momo after completion of 3rd year of graduation and they are waiting for their results at the age of 21.  Binod is from Nepal and he made good momos and also in front of their college an aunty sell momo which gives them the idea of Wow Momo.
Wow momos are started with the investment of 30000 rupees which Sagar took from his father. In the beginning, Sagar and Binod approached the supermarket chain Spencers to set up a stall. In the initial days, Sagar would wear a Wow! Momo T-shirt and approach every person entering the store, and ask them to sample the momos.
Sagar Daryani and Binod Kumar Homagai approached the Spencers(supermarket) to set up the first stall. In the beginning, Sagar managed to hire a cook Ramji KC as a part-time cook who also works at a small restaurant in the city. Sagar pays 3,000 rupees to Ramji KC in initial days and they use the garage of her father which is used as a kitchen to make momos.
The first day of Wow Momo goes very well the sale happened of around 2,200 rupees and at the end of the month, they touched 53,000 rupees.
In the beginning days, Sagar wakes up early in the morning near to 5:30 as went out for the shopping of raw materials like chicken, vegetables, etc on his bicycle. They serve fresh momos. They use hot cases to carry the momos from the garage to Spencers.
While coming back, since the crates were empty, we would walk to save money. Now we have a fleet of 50 vehicles. It has been a journey for us. We always believed that Re 1 saved was Rs 5 earned. We did quite well at Spencers and they noticed that, giving us another location in the best mall at Kolkata with the biggest Spencers
Spencers help a lot in the beginning days of the Wow Momos. By seeing the hard work of two guys they allotted a new kiosk in the best mall of Kolkata with the biggest Spencers. They set up their second outlet/stall after the four months of first. Wow Momo used to sell the Momo at 40 rupees per plate in initial days.
The south city mall brings a big change in the revenue of the Wow Momo. The revenue raised from 50,000 to 9 lakhs. With the increase in the income, they hired the team for research and development of their product.
Now Wow momo build a team with their first chef Ramji. Currently, Ramji gets a salary of 1.20Lakhs per month. In the beginning, the store is handled by Binod and Sagar itself but they hired professionals and now they have a team.
"I had this favorite Subway outlet in Kolkata, where I knew the employee who made my sandwich very well. I went there, offered him a job and recruited him immediately. When you get one good employee and offer him a chance at growth, you automatically enhance your brand in the eyes of other employees," adds Sagar.
Now the Wow Momos became a brand and they start approaching Big Bazaar and Pantaloons for kiosks. Currently, Wow Momo have around 130 outlets in 9 cities in India. A central kitchen is a setup in each city which help to make momos and deliver to kisoks. Wow! momo has employed around 1600 employees (700 people backend 900 storefronts) Wow Momo team follows a standardized recipe and cooking methodology.
Wow! Momo has also increased Series B funds of Rs 44 crore directed by Lighthouse Funds and IAN at a valuation of Rs 230 crore. The business is also considering an IPO in the next six to seven decades. Currently, it intends to open over 1,000 Wow! Momo stores across the nation.
Sanjeev Bikhchandani, founder of Naukri.com and direct investor ! Momo on behalf of IAN because of 2015, adds that the firm has continued positive cash flows in geographies where it's achieved economies of scale.
Awards and Achievements Wow Momo
Winners at ET Now Leaders of Tomorrow Regional Awards in Food & Agri Products from East India 2013 & also qualified for National Awards on 09.12.2013
Winners at ET Now Leaders of Tomorrow Regional Awards 2013 as the Best SME of the Year from East India on 09.12.2013
Winner of the Images Most Admired Retailer of the Year – Food service in the East India Retail Summit, ITC Hotel on 17.12.2013
Sagar Daryani of Wow! Momo received a citation as the Top 50 Most Professional Retail Individuals of India for 2013 on 13.02.2014.
Nominated in the Finals of the Coca Cola Golden spoon Awards under the CATEGORY – Images Most Admired Food Service Chain of the Year: QSR Indian Origin for 2013 & 2014.
Nominated as Finalists in Et Now Leaders of Tomorrow for the Year 2012.
Recipient of 1st Runners Up in 'The Food Court ka Badshah' organized by Spencer's Retail Ltd. in Kolkata.
Recognized by The Telegraph 'Graphiti' magazine as top 5 Young Entrepreneurs of Kolkata on 19th Dec 2011.
Products
Sagar and Binod started Wow! Momo with steamed momos, and after they came up with twelve different varieties, some of them being chicken, chicken and cheese, schezwan, and prawn. For vegetarians, the offerings include corn, and corn and cheese, among others.
And the pricing starts from 40 rupees.
Conclusion
Sagar Daryani works so hard to make Wow Momo a brand. His vision to make a brand like Dominos, KFC. Sagar always passionate about business. In college, a placement he got a job in a bank with a package of 3lakhs but he denied that and tried a business and succeed. Sachin Tendulkar is an idol of Sagar Daryani. He gives 100% to Wow Momos that why Wow Momos is a company of around 135 crores. Success Story of Wow Momos and Success Story of Sagar Daryani show dedication, hard work, and passion.
If you have any doubts or suggestion regarding Wow Momo | Success Story of Sagar Daryani | 0-150 crore story | Case Study then do comment. If you like this a short case study of wow momo then do share on your social media handles.
Cheers!♥